HVAC – Understanding the Basics
What is HVAC?
HVAC, short for Heating, Ventilation and Air Conditioning, is a sub-specialty of Mechanical Engineering which relates to controlling the temperature, pressure and humidity of air within an enclosed volume of space.  HVAC brings together Thermodynamics, Fluid Mechanics as well as Heat and Mass Transfer from a mechanical perspective and, with current advances in technologies, requires Mechanical Engineers and Technicians to also understand Instrumentation and Control.  HVAC systems comprise of all the components and equipment that are needed to ensure that the climate in an enclosed space is controlled within the limit of the specified conditions. These components include: cooling towers, air-handling unit, compressors, pumps, ducts and many others. 
Technician trying to understand what is HVAC? Source: Byrd HVAC
HVAC is such an essential aspect of modern human society that there are entire industries which would not exist without it.  This is due to HVAC systems being found in: high-rise buildings, restaurants, markets, medical and clinical environments, cars, logistics vehicles, airplanes, boats and many other places.  In most buildings HVAC accounts for 60-80% of all building costs according to Oaklins Netherlands.  According to Grand View Research, the HVAC industry has a $106,6 billion value market size as of 2020 and is expected to grow by 6.2% from 2021 to 2028.  It is no wonder than any Mechanical Engineer, either student, graduate or consultant interested in specialising in HVAC would have a lucrative career ahead of them.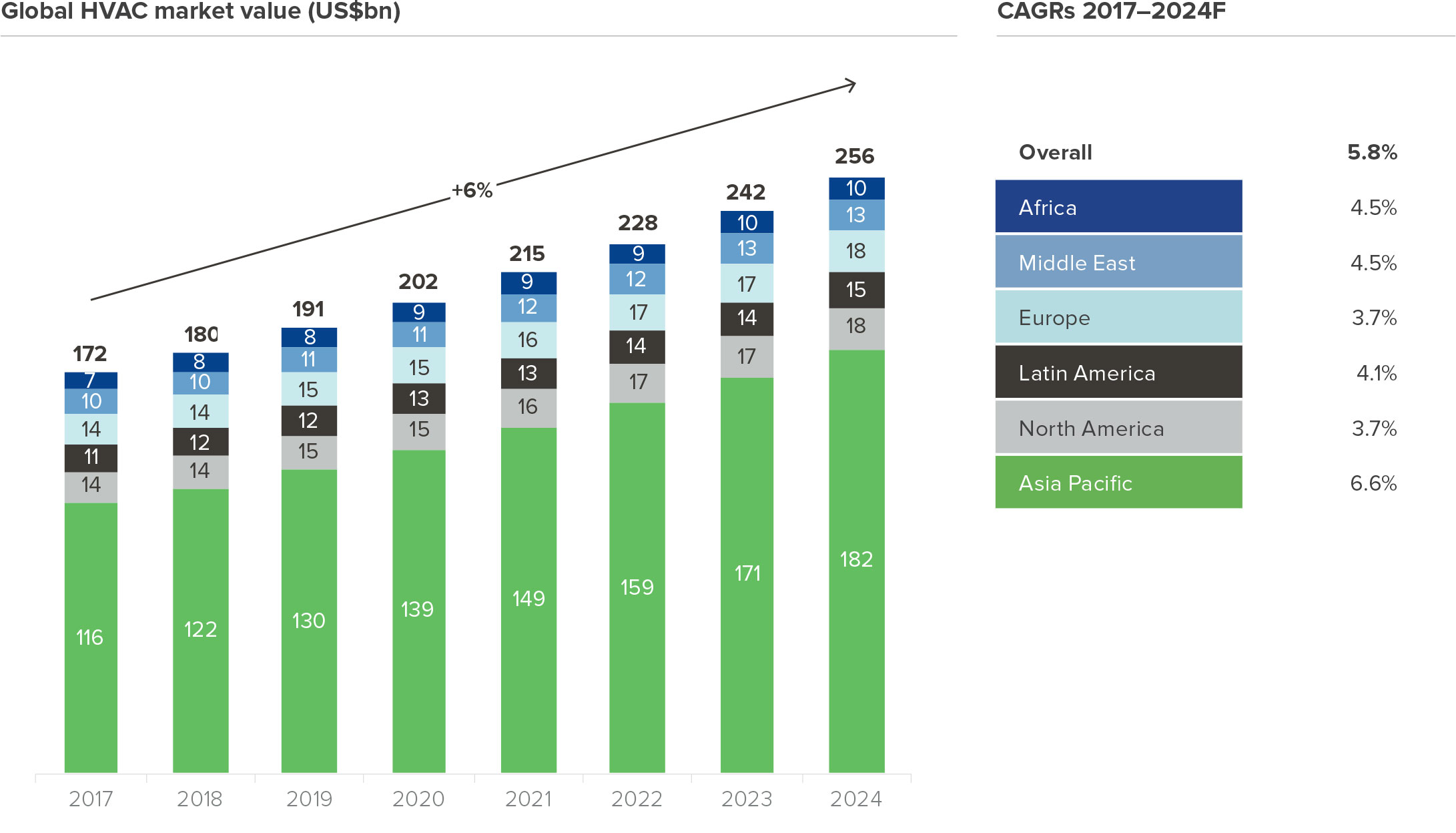 Source: Oaklins Netherlands https://www.oaklins.com/news/en-NL/182662-3-ways-hvac-joins-the-fight-against-climate-change
It is near impossible to find an industry which does not rely on HVAC systems in some way or another and in most industries HVAC is a necessity to comply with regulatory requirements.  But before we get into the technical aspects of this industry we need to point out that there are not enough Engineers and Technicians being trained to specialise in HVAC and most Mechanical professionals enter the Engineering field without knowing about HVAC as a specialty.  In order to change this we thought to share information and trends regarding the HVAC Industry.  As most academic programmes don't train Engineers on HVAC in undergrad, future HVAC specialists only become exposed to HVAC when in industry.  To fill this gap we intend to inspire a generation of Mechanical Engineers who will begin their studies and training with the intention of becoming HVAC Engineers.  With our articles on HVAC we intend to bridge the gap between studying, working in and being a consultant in the HVAC Industry.  In order to do this we will be covering the following topics:
HVAC Fundamentals

Psychometry

Human Comfort Requirements

Calculation of Heating and Load

HVAC Equipment and Systems

Design of Ducting

Distribution of Air-flow

Variable Air Volume Systems

Refrigeration

Instrumentation and Control of HVAC Systems

Environmental Impact of Air Conditioning

Installation, Commissioning, Operation, Testing and Maintenance of HVAC Systems

Fault Finding and Troubleshooting of HVAC Systems
Source: https://minnicks.com/learning-center/hvac/hvac-system-cost/
It you are curious about this omnipresent industry then the IndiWorks Engineering Blog is the perfect place for you.  In our first article we will cover:
Principles of Thermodynamics

Laws of Thermodynamics

Fundamentals of Heat Transfer

Fundamentals of Fluid Flow
Source: https://www.ctc-n.org/technologies/heating-ventilation-and-air-conditioning 
We start with the above concepts because these are the basic principles covered in Mechanical Engineering and are a familiar starting point to all Mechanical professionals.  After covering these known topics we shall then be able to venture into the less familiar and eventually into the unknown of Heating, Ventilation and Air-conditioning.